The Quality of Roof bolting is a key factor for safe and productive mining in underground operations. Early load bearing capacity and corrosion protection by full column grouted bolts are simply achieved by use of bolting resins. Those can be installed as cartridges or pumped into the bore hole in order to seal the bolts over all the length.
Rock bolt installation with ROCLOC® resin cartridges
This system provides a full resin grouted column which helps ensure a more effective bolt installation, as well as providing corrosion protection of the bolt.
After drilling, the desired number of cartridges are introduced into the bore hole followed by the rock bolt. The end of the rock bolt is angle cut to form a sharp tip to ease the capsule membrane rupture. Introduction of the bolt to its full length is combined with spinning of the bolt in order to mix the resin with the hardener inside the cartridge. Once the bolt is completely inserted, spinning is stopped once the recommended spinning time is achieved. Spinning may vary according to the capsules supplied to suite the mines equipment, mining cycle and geological conditions. The bolt is then held in position in order to allow the hardening reaction to take place.
Hold and setting times depends on resin type, temperature and energy given to the system while introducing the bolt into the bore hole.
---
Advantages
High load transmission
Fast setting times allow for fast bearing support
Ease and speed of installation, simple and safe handling
Full length encapsulation or point anchoring loading
Suitable for automated installations due to the possibility of pneumatic insertion of the cartridges
Cartridges with different setting times, lengths and diameters are available to cover a wide range of applications
---
Rock bolt installation with POTENTIA® THIXO or MARISIL® THIXO pumpable resin
This system provides a full column resin grouted installation which, helps assure a more effective bolt installation as well as providing corrosion protection of the bolt.
Bolts are ready for tensioning in a short time, thus providing for quicker support. It can be applied to the conventional 2-stepsystem whereby the bolt is placed after the borehole was drilled with a drill steel or it can also be combined with a self-drilling anchor. This application using self-drilling anchors is particularly useful in ground conditions where drilled holes are prone to collapse due to bad ground conditions.
After the annulus between bolt and borehole is injected, an immediate load transfer can be ensured as the resin cured after a few minutes.
---
Advantages
Full column grouting.
Suitable for wet ground condition.
Suitable for weakened and weathered rock formations.
Increased load bearing capacity.
Highly fractured areas can be consolidated during this installation process.
Applicable to SDA, conventional cable anchors and any other bolting system which allows for injection of grouts.
• • • • •
---
Technical datasheet and further information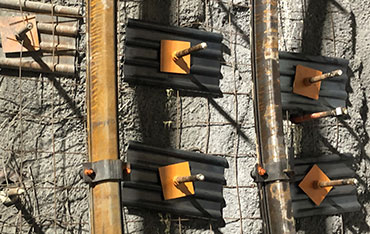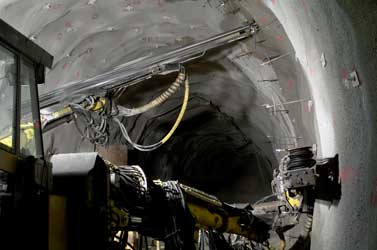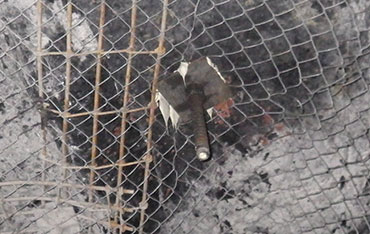 Download the product description